Life Lessons from the Martial Arts – Part 1: Ego is the Enemy
I started Martial Arts back in 2001 with Wing Tsun Kung Fu, and since then I've practiced Boxing, Muay-Thai, BJJ, Wrestling, and "Reality-based" Self-Defense, and I've come to learn that Martial Arts have a lot to teach us, not only about how to win fights, but also about success and failure in life.
In this multi-part series I'll be sharing with you some of the greatest lessons from the world of Martial Arts, the UFC, and the Greatest Fighters of all time.
Whether you like Martial Arts or not, this series has a lot to teach you.
Let's begin:
Ego is the enemy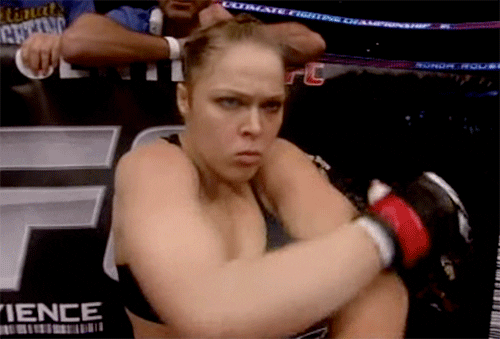 "Ego is an evil thing. Confidence is important,  but ego is something false. Humility is the way to build confidence, and ego is hugely dangerous in this sport, because if you're running on ego you aren't running on good clean emotions, or cause and effect. You bypass it to support a false idea. It's all garbage, the ego is garbage." – Frank Shamrock, former UFC Middleweight Champion 
The rise and fall of Ronda Rousey was epic.
First of all credit where credit is due. Ronda Rousey was the 1st UFC Women's bantamweight champion, she was undefeated in her 1st 12 fights (winning 11/12 in the 1st round via armbar or KO), she is an incredibly talented Judoka (Olympic Bronze Medalist in 2008), in 2015 Sports Illustrated called her The World's Most Dominant Athlete and voters in an online ESPN poll selected her as The Best Female Athlete ever, and without her convincing UFC President Dana White that it was a good idea to have a Women's division in the UFC, Women wouldn't be fighting in the UFC today.
Ronda showing off her Judo skills against her rival Meisha Tate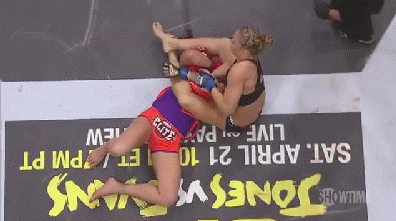 Before finishing her off with one of her specialty 1st-round armbars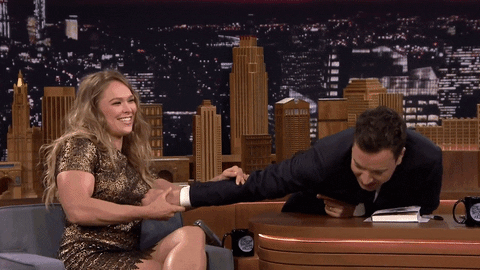 But as talented as she was, Ronda was also a bitch with a bad attitude. She was arrogant, disrespectful to her opponents, she had a massive ego, and she let success go to her head. She thought she was invincible, and that she would go undefeated forever.
The mainstream media however, consciously chose to paint a misleading picture of Ronda as a hero and role model for young girls and women everywhere, and she was invited to appear on shows like Ellen, Jimmy Fallon, Jimmy Kimmel, Conan O'Brien, and SNL, and received offers from Hollywood and started appearing in movies such as Entourage, The Expendables 3 and Furious 7.
Ronda was a fighter yes, but a role model no.
"If I get her in an armbar, I'm gonna try to rip it off and throw it at her corner. If I get her in a choke, I'm gonna hold onto it until she's actually dead. She's depending on the competence of the California Athletic Commission to be able to walk out of that cage alive." – Ronda Rousey before her fight with Sarah Kaufman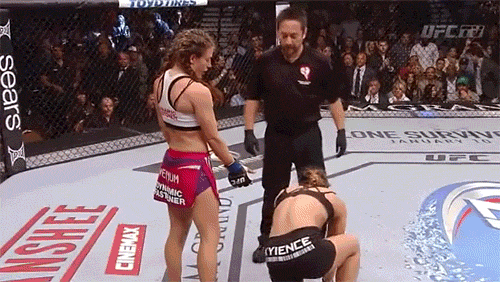 Refusing to shake hands after defeating her rival Meisha Tate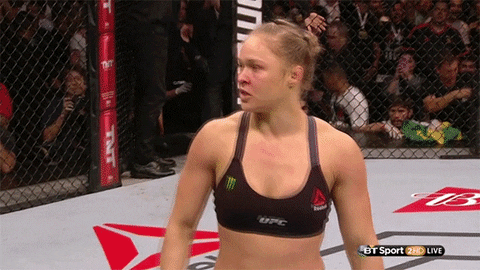 Ronda continued to disrespect each of her opponents including UFC 193 title challenger Holly Holm (an 18-time World Boxing Champion with an undefeated 9-0 MMA record) in the lead-up to the fight, at press conferences, at the weigh-ins, and even the night before on social media
"Fake ass cheap shotting fake respect fake humility bitch – "preacher's daughter" my ass – I see through your fake sweet act now – you're getting your ass kicked tomorrow, and I'm really going to enjoy the beating I give you #andSTILL" – Ronda Rousey tweet on Instagram and Twitter the night before the Holly Holm fight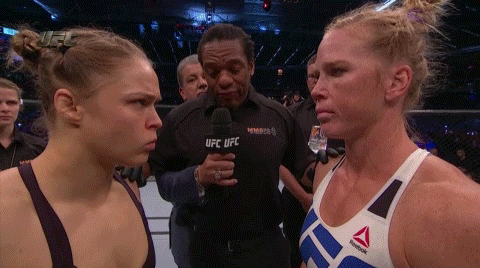 And of course she refused to touch gloves with Holly before the fight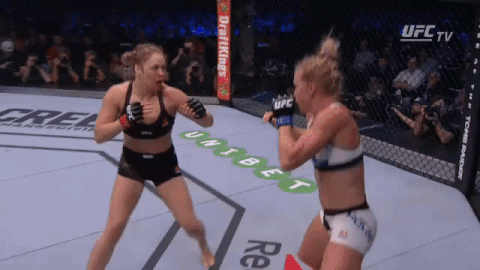 But in one of the biggest upsets in MMA history, Holly brutally KO'd Ronda in the 2nd round (overcoming 9/1 odds) after thoroughly dominating and outclassing her in the 1st. The crowd couldn't believe it. Twitter couldn't believe it. Ronda's haters were ecstatic. Ronda was humbled and humiliated.
"You just got knocked the f–k out." – Justin Bieber
"THATS WHAT YOU GET FOR NOT TOUCHING GLOVES!" – Lady Gaga
"Glad to see that @RondaRousey lost her championship fight last night. Was soundly beaten – not a nice person!" — Donald Trump
The bigger they are, the harder they fall, and Ronda fell hard. She didn't speak to the crowd after the fight, she didn't do the post-fight press conference, she didn't go on social media, and when she left Australia she hid her face behind a blanket as she walked through the airport so that reporters couldn't identify her. She then went into hiding for nearly 6 months without saying anything to the media or to anyone on social media until she finally went on Ellen and confessed to feeling suicidal:
"Honestly, my thought in the medical room, I was sitting in the corner and was like, 'What am I anymore if I'm not this? And I was literally sitting there thinking about killing myself, and in that exact second, I'm like, I'm nothing. What do I do anymore? No one gives a shit about me anymore without this.'" – Ronda Rousey
Ronda took 13-months off after her loss to Holm in an attempt to try to rebuild her confidence, finally coming back to the Octagon to face the new champion Amanda Nunes in December 2016. Everyone wondered if she'd be able to mentally recover after the devastating loss she'd had to Holly one year before. It turned out she hadn't. She was done.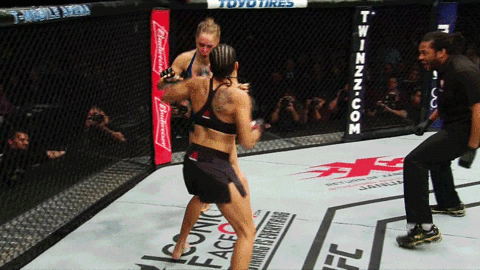 Ronda was annihilated in just 48 seconds of the 1st round by the new (and current) champion Amanda Nunes absorbing 27 punches – 23 to the head
Until Ronda lost, she was seen as unbeatable due to her dominant victories and the massive amount of hype from the media and the UFC:
Long-time UFC commentator Joe Rogan was one of the many responsible for that hype:
"The best ever, ladies and gentlemen." – Joe Rogan 
"She's not a once in a lifetime, she's once ever." – Joe Rogan
"There's something staggering about that woman. I really do feel like she's just some incredible, historical figure. It's like watching some unbelievable historical figure that's never existed before. This is something you're going to get a chance to tell your children about. To tell your grandchildren about." – Joe Rogan
It wasn't until Ronda lost that Joe said something a lot smarter:
"When you're on top, you think you are the fucking person, you're the woman, you're the man, you're the shit. No one's going to fuck with you, I'm just going to run through this bitch! And then you get cracked. Then you realize this game doesn't give a fuck. This game doesn't give a fuck about your charisma. It doesn't give a fuck about the Vegas odds. It doesn't give a fuck about how much money you made or how many times you've been on 'Entourage' or how many movie deals. This game doesn't give a fuck." – Joe Rogan
After suffering devastating back-to-back losses, Ronda left MMA (is now unofficially retired) Hollywood stopped calling, and is now performing in the WWE.
The biggest lessons from the fall of Ronda Rousey are:
Ego is the enemy
Don't believe your own hype or press
Never underestimate your opponent
You don't need to fear your opponent but you should respect them.
Smart fighters see their next opponents as:
"The most difficult fight of my life"
"The most dangerous opponent I've ever faced"
"The biggest test of my fighting career" 
This attitude will bring out the best in you, and it will keep you sharp and focused.
Of course Ronda isn't the only fighter to let their ego get the better of them.
Other notable examples include: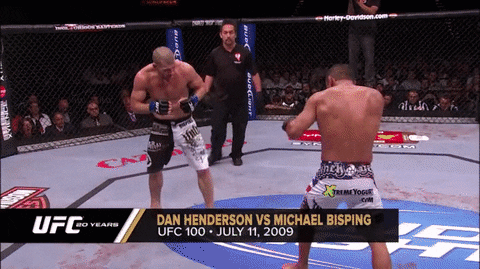 Michael Bisping taunting Dan Henderson on TUF 9 before getting KO'd at UFC 100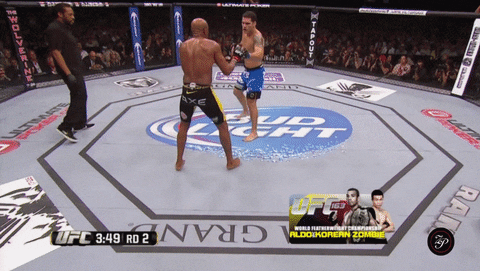 Anderson Silva taunting Chris Weidman before getting KO'd at UFC 162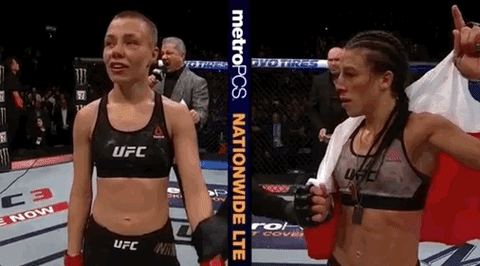 Joanna Jedrzejczyk playing mind games with Rose Namajunas before getting TKO'd at UFC 217 and then getting dominated in their rematch at UFC 223
It's true that some of the best fighters are also some of the cockiest and most arrogant: Muhammad Ali, Roy Jones Jr, Floyd Mayweather, Anderson Silva, Jon Jones, Conor McGregor to name a few. The key is however, to keep the ego in check, and to surround yourself with people and training partners that will keep you humble and give you a reality check when you need it.
Confidence and self-belief is good, you won't succeed in MMA or life without it, but arrogance and a massive ego is not. It blinds you to your weaknesses and it makes you delusional.
When confidence turns to arrogance and you let success go to your head, that's when you start getting complacent and overconfident, and you don't train as hard or take your opponents as seriously, and that's dangerous in Martial Arts, Sports, Business, and in life.
"You don't make it far if you have a big ego. The guys that come in here with huge egos get smashed until they learn. Verbal reasoning won't work, that's where those guys live…you just gotta smash them until they get humble. And build them back up, if they can stand it." – Greg Jackson
Footnote
Ronda Rousey image credit: CP DC Press / Shutterstock.com